May & June~Hours, Varieties, Fundraisers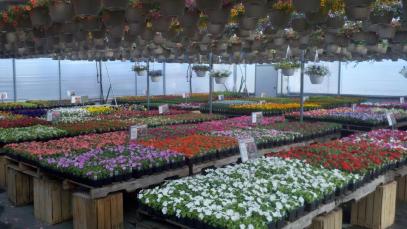 Greenhouse Season...
Last Saturday of April through July 1.
Greenhouse Hours...
Monday-Saturday 9am-6pm
Sunday 10am-5pm
What we have to offer...

*4" Square Pots:

Seed Perennials, Herbs, Vinca Vines, Asparagus Fern, Spikes, Vegetables, Seed Geraniums.
*4.5" Round Pots:

Annual Grasses, Ageratum, Angelonia, Argyrathemum, Bidens, Million Bells, Cleome, Coleus, Euphorbia, Lantana, Lobelia, Nemesia, Osteospermum, Phlox, Scaveola, Supertunias, Bacopa, Verbena, Dahlia, Zinnia, New Guinea Impatiens, Hypoeste, Dragon Wing Begonia, Tuberous Begonia, Reiger Begonia, Purslane, Heliotrope, Sweet Potato Vine, Gerbera Daisy, Ivy, Evolvulus, Zonal Geranium, Torenia. Proven winners & Specialty Annuals.





*

48 Plant Bedding Flats

:

Mix or Match Flowers or Vegetables. Tomato, Pepper, Broccolli, Cauliflower, Green Beans, Squash, Watermelon, Muskemelon, Pumpkins, Alyssum, Wax Begonia, Salvia, Coleus, Dahlia, Dianthus, Dusty Miller, Shade Impatiens, Lobelia, Marigolds, Moss Roses, Pansy, Petunias, Snapdragons, Verbena, Vinca , Zinnia.
*10" Hanging Baskets :
Wax Begonia, Tuberous Begonia, Reiger Begonia, Dragon Wing Begonia, Impatiens, New Guinea Impatiens, Fuschia, Geraniums, Foliage, Lobelia, Browallia, Scaveola, Strawflower, Purslane, Beths Blue, Streptocarpella, Mezoo, Petunia, Evovulus.
Lots of other things available...
Patio Geraniums, 6" and 8" Geraniums, Gallon Annuals, Patio Tomato, Hibiscus, Gardenia, Mandevilla, Dipladenia, Planters, 12" Hanging Baskets.
Custom planters
: bring us the container and we do the planting for you!
Spring Fundraisers...
Many groups have signed up with Barbotts to have a plant sale to raise funds for their school or organization. Interested? Here are a few tips to know... The plant sale is completed by May 1st of each year. You should plan to run your sale in March and the first part of April. The organization then distributes the coupons to the customer by May 1st. The customer then has from May 1-June 15th to pickup the plants that they purchased. For best selection and availability shop early.

The plant sale consists of 4 different coupons... Each coupon is distinguished by the size and shape of the pot the flower is grown in. This section above notes the pot size and the items available per each coupon.