July & August~Summer Roadside Market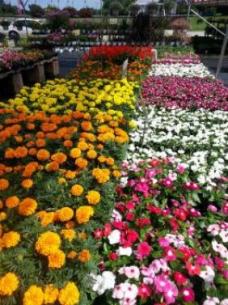 The heat is on! It gets hot in the greenhouse during the summer months, so we pack up and head out to the roadside. This is when we start our summer sale. Summer Sale usually starts the weekend of 4th of July!
Baskets are on sale $TBD each or 2 for $TBD Flats are on Sale $TBD each or 2 for $TBD
The choices are endless! We put nothing but quality plants at the roadside to ensure the quality of your garden, even if you get a late start in planting. The roadside market is self serve, but we are around if you need help or have questions just ask. We'll be happy to help any way we can. Our roadside market offers great name brand flowers like Wave Petunias and Proven Winners in 4½" and 1 gallon pots. We are Proven Winner Certified and we know our plants. Sun? Shade? Or a little bit of both? If you're not sure what you need or have any other questions about your plants and garden, we can help! Gallon Perennials are on sale only $TBD,
While you were on vacation this summer did your flowers not get watered? Don't worry we have a great selection of good quality plants. It's never too late to replant your garden or replace you baskets. We cycle our planting throughout the growing season, so baskets are always fresh and beautiful. They are full and are ready to add color and life to any area around your home or work.
Each morning plants are watered and restocked
and we are available to answer any questions!
Yes, we are OPEN! We are open from dawn to dusk seven days a week, stop by at your convenience to see our selection. As the season progresses so does our variety. As we sell out of some summer plants, their space will be filled in with another planting or a different variety. There is always something changing, stop out to see what is going on! As fall comes on look for mums and fall decorations for your home. We are always here and always growing!