July & August~Summer Market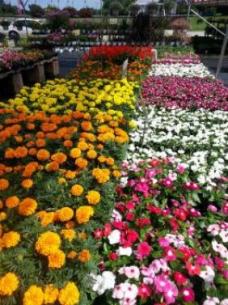 The heat is on! SUMMER SALE BEGINS JULY 1ST. WE WILL BEGIN OUR SALE RIGHT IN OUR NORMAL RETAIL GREENHOUSE... THEN LOOK FOR OUR NEW LOCATION RIGHT NEXT TO OUR GREENHOUSE UNDER OUR SHADE TENT AS SUMMER TEMPERATURES HEAT UP. It gets hot in the greenhouse during the summer months, so we pack up and head OVER to the NEW OUTDOOR SALES AREA.
The choices are endless! We put nothing but quality plants at the roadside to ensure the quality of your garden, even if you get a late start in planting. The roadside market is self serve, but we are around if you need help or have questions just ask. We'll be happy to help any way we can. Our roadside market offers great name brand flowers like Wave Petunias and Proven Winners in 4½" and 1 gallon pots. We are Proven Winner Certified and we know our plants. Sun? Shade? Or a little bit of both? If you're not sure what you need or have any other questions about your plants and garden, we can help! While you were on vacation this summer did your flowers not get watered? Don't worry we have a great selection of good quality plants. It's never too late to replant your garden or replace you baskets. We cycle our planting throughout the growing season, so baskets are always fresh and beautiful. They are full and are ready to add color and life to any area around your home or work.
Each morning plants are watered and restocked
and we are available to answer any questions! Summer Market Hours 10am-5pm