Live Greens & Garland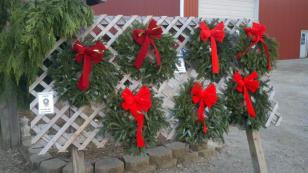 Live Wreaths~Live Garland~ Door Charms~
Swags~Cemetary Cradles
We are offer our customers 24" and 42" wreaths. The deluxe wreaths are made with several types of evergreens, we also carry wreaths that have just one type of green with them. The price will vary on the wreath choice you select.

Garland seems to sell very fast. Be sure to shop early if you are looking for live roping.

We have cemetary stands and cradles for your loved ones. The cemetary cradles are meant to fold over the top of the stone. The stands will stick in the ground. We will wire your wreath to the stand if you desire. The cradles are assembled at the greenhouse, please place an order so we can custom make it for you.

The door charms and swag are a perfect touch for a door or fence post. Customers also have taken them indoors to use as table centerpieces.

With any fresh cut items, they will dry out. To further enhance your fresh evergreen decorations, especially when indoors, mist them with water. This will help keep them a little longer through your holiday season.