3rd & 4th Grade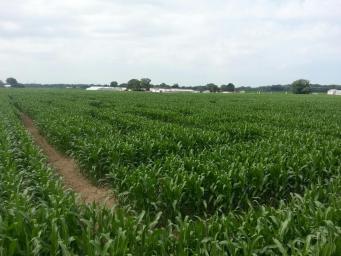 Barbott's Ultimate Corn Maze
3rd, 4th, 5th Grade
Cost: $6.00 each per Student and Chaperones
Ag Lesson: $1.00 (optional) per Student
Teachers should plan to pay, in one transaction, for all students and chaperones attending with his/her classroom.
Time to complete this field trip: Minimum 3 hours. Class size and activities chosen may vary time needed.
Hayride
Our hayride will be our transportation to and from the corn maze. In the case of large groups, some want to walk. Students that choose to walk must be with their chaperones.
Treasure Hunt Corn Maze
At this age we want to encourage students to use their map reading skills to conquer this maze. We don't want them just following their chaperone to each checkpoint. There are 6 checkpoints that will be marked on your map. Reading the map will take you to each checkpoint.
Farm Scene Investigation Corn Maze
Farm Scene Investigation- A game of clue. Help us solve a mystery on the farm. Farmer Joe is missing and we have to rule out suspicious farm animals, farm tools and farm locations. All the clues that you need to solve the mystery will be at each checkpoint. Read your map to navigate to each checkpoint.
2017 Ag Lesson-Farm to Table
Toy Farm Demonstration.

We will use a toy farm to demonstrate the farm to table concept. We will talk about farmers, truck drivers, mixers, packagers, grocers and consumers. We will use Peanuts, Sunflower Seeds, M&M's and raisins. Once the demonstration is complete, the students will be given a prepacked 2 oz snack of Kar's Sweet N' Salty Trail Mix. The snack is advertised as Gluten free, but not peanut free. We will have prepackaged rice krispie treats as a sub for allergies.
Lesson: Part 2
Students split into groups of 5 with one chaperone per table.
Students are asked to think through the process of naming their farm . If they had a farm, what one "product" would they like to grow? How would they "market" the "product" to "consumers". Chaperones are the bankers (but helpers too). The stEconomic udents will have to be responsible for their fake money and how it is spent on the "expenses" on their farm.

Pumpkinville
Replacing the hayfort is our bin fort. It will be a vertical climbing play area with pea gravel bottom that kids can play with trucks and tractors, pails and shovels. The pedal cars are always a hit...moms and dads may have to help push or steer. The hamster rollers are always fun to watch the kids manuever their coordination and balance. The bounce house has been refurbished with new nets for 2017. As always we have our games....Connect Four, Checkers, Memory Game and this year will be adding Tic-Tac-Toe.
Lunch
We have plenty of picnic areas to accommodate 72 bodies at tables. If your group is larger we can pull up some straw bales or blankets as seats if need be. Lunch is reserved at time of reservation. This may also alter the time needed for the field trip.
Pumpkins
Everyone will get a pie (softball size) pumpkin. The teacher chooses one Jack O'Lantern pumpkin for the classroom.
Teachers remember bags and sharpies.

Chaperones
We recommend 1 chaperone per 5 students. This is a good size for the corn maze and for the lesson if it will be chosen. Just a reminder to chaperones and students that they will be walking in a corn field. Tennis shoes or hiking boots are a great choice. Chaperones are welcome to enjoy the activities with the students...just keep your eyes peeled for students needing help. Also please note to chaperones bringing siblings or grandma and grandpa, all require an admission payed to the teacher. Please plan in advance.
Weather
All of our activies will be outdoors. Barbott's will advise to help teachers make informed weather decisions. Barbott's will not cancel your trip...the school has the final call. Unfortunately we do not schedule rain date reservations in advance. Remember fields can get muddy and slippery. Please send students in appropriate apparel.
Payments
Please take extra care at trying to collect from chaperones that are attending with your class. We would like to receive one payment from each class for our records. A receipt will be supplied at time of payment. Cash , Check, Credit Cards are acceptable forms of payment. We do not bill Schools.