1st & 2nd Grade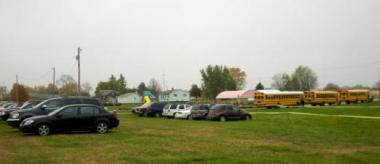 Barbott's Ultimate Corn Maze
1st & 2nd Grade
Cost:
$6.00 per Student, Chaperone
Ag Lesson:
$1.00 per Student
Teacher should plan to pay in one transaction for all students and chaperones attending with his/her classroom.
Time to complete this field trip: about 1.5 hours. Size and activities chosen will increase time.
Hayride
Our hayride will be our transportation to and from the corn maze.
Farm Tracks Maze
New for this age group. A new activity for a little bit older hands and feet, but not ready for the "big" corn maze. We are introducing Farm Tracks. The students will be given an observation sheet. They will be patrolling a very small corn maze and looking for Farm Tracks on Medallions placed along the corn maze trails. Once they have found one, a coloring crayon will available for them to color over the medallion revealing a farm animal track!
2017 Ag Lesson-Farm to Table
Hands on role play for students.

We will use your students to be farmers, truck drivers, mixers, packagers, grocers and consumers to make this role play work. We will use Cheerios, M&M's, peanuts, raisins, candy corn and pretzels to make a snack mix that the kids will take home. We will make it in the lesson, and send it home with the teachers to pass out in class or to send home.
Lunch
We have plenty of picnic areas to accommodate 72 bodies at tables. If your group is larger, we can pull up some straw bales or blankets as seats if need be. Picnic area is by reservation only. Extra time will need to be scheduled to accommodate lunches.
Pumpkinville
This is a super area for students. Play area that includes life size game boards, hayfort and pedal cars.
Pumpkins
Everyone will get a pie (softball size) pumpkin to take home! The teacher gets to choose a Jack O' Lantern pumpkin for the classroom. Teachers don't forget bags and sharpies.
Chaperones
We recommend 5 students per chaperone. This is a good number for the maze and also for the GORP lesson. Just a reminder to chaperones and students that they will be walking in a corn field. Tennis shoes or hiking boots are a great choice. Chaperones are welcome to enjoy the activities with the students...just keep your eyes peeled for students needing help. Also please note for chaperones bringing siblings or grandma and grandpa all will require an admission payed to the teacher. Please plan in advance.
Weather
All of our activities will be outdoors. Barbott's will advise to help teachers make informed weather decisions. Barbott's will not cancel your trip...the school has the final call. Unfortunately we do not schedule rain date reservations in addition to your field trip reservation. We will reschedule based on availability. Remember field can get muddy and slippery. Please send students in appropriate apparel.
Payments
Please take extra care at trying to collect from chaperones that are attending with your class. We would like to receive one payment from each class for our records. A receipt will be supplied at time of payment. Cash , Check, Credit Cards are acceptable forms of payment. We do not bill Schools.